Publications
2009 California Green Innovation Index
The 2009 California Green Innovation Index is a brand new report produced by Next 10 and authored by Collaborative Economics. The Index provides a deep analysis of key economic and environmental indicators that will help us better understand the role green innovation plays in reducing greenhouse gas emissions while strengthening the economy.
Research included in this 2009 Green Innovation Index provides further evidence of the powerful economic stimulus clean energy policy can provide. California's energy productivity, that is, the amount of Gross Domestic Product produced per unit of energy, is 68% more productive than the rest of the nation. New data presented shows that while total jobs increased by just one percent statewide, green jobs have increased by ten percent since 2005. Clean technology investment in California nearly doubled in 2008, reaching $3.3 billion. California is a national leader in solar, wind and battery patents.
THANK YOU
Next 10 gratefully acknowledges the following Advisors to the California Green Innovation Index:
Ralph Cavanagh
Natural Resources Defense Council
Michael Hanemann
University of California at Berkeley
Hal Harvey
Climate Works Foundation
Elliot Hoffman
New Voice of Business
Van Jones
Green For All
Dan Kammen
University of California at Berkeley
Bruce Klafter
Applied Materials
Joel Makower
GreenBiz.com
Jason Mark
The Energy Foundation
Walter McGuire
Flex Your Power
Joe Nation
Former State Assemblyman, District 6
Manuel Pastor
University of Southern California
Fran Pavley
California State Senator, District 23
Wendy Pulling
Pacific Gas & Electric Company
Carol Whiteside
Great Valley Center
Tim Woodward
Nth Power
Special thanks to Morrow Cater and Cater Communications for project guidance and communications support and Tom Shalvarjian of 3x3 for report and graphic design.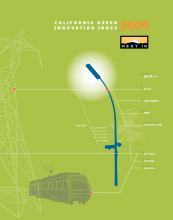 Downloads
Full Report
Key Findings
Press Release