Publications
Powering Innovation: California is Leading the Shift to Electric Vehicles from R&D to Early Adoption
New research tracks key indicators to assess opportunities and obstacles for California in the EV sector and finds California captures 69 percent of global EV investment in 2011, ranks first in nation in EV patents, and EV jobs increase during downturn.
"California is fast becoming the world's advanced car capital—our entrepreneurs, savvy consumers, research institutions and our market-driving policies are creating a perfect storm for continued growth," said F. Noel Perry, businessman and founder of Next 10.
Select Findings:
California is a global VC leader in electric vehicles, attracting 69 percent of the world's EV investment in the first half of 2011.
In the first half of 2011, California attracted 69 percent of global investment in EV-related sectors and 74 percent of United States investment in EV-related sectors ($467 million).
California is a national and global patent leader in EV technology.
California and Michigan rank first in total EV technology patents in the nation- both generating 300 patents each between 2008-2010.
New jobs data shows strong growth in California's EV sector—going against recessionary trends.
During the recent downturn, EV jobs expanded four percent in California, while total employment in the state dropped seven percent from January 2009 to 2010.
Starting with a relatively modest base in the early days of the EV sector, jobs in California increased 142 percent from 1995 to 2010 (growing from 740 to 1,800). Over the same time period, jobs in the overall economy grew by 12 percent. 
California's history as an early adopter of new technology, its forward-looking polices and its strong community efforts to spur market growth in clean energy technology all contribute to its role as a market and infrastructure leader in the EV sector.
California ranks first in the nation in total charging stations (609) and first in the nation per capita (16.3 charging stations per million residents).
California ranks first in the country in total number of electric vehicles and hybrid vehicles.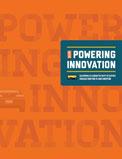 Downloads
Full Report
Key Findings
Press Release