Publications
Clean Valley - San Joaquin Valley Leveraging Natural Resources to Grow the Clean Economy

In "Clean Valley: San Joaquin Valley Leveraging Natural Resources to Grow the Clean Economy," Next 10 reports that the San Joaquin Valley is leveraging its agriculture and traditional energy expertise to develop a regional clean tech sector in a heavily agriculture-focused area.
Key findings include:
- The region is a hub for developing and testing new water technologies for irrigation, conservation, and metering.
- Driven by innovative permitting processes and partnerships, the San Joaquin Valley is the statewide leader in installed energy capacity.
- In January 2014, there were over 10,500 jobs in San Joaquin Valley's "core" clean economy.
- Employment in the San Joaquin Valley's clean economy is driven largely by energy generation, recycling and waste, and air and environment sectors.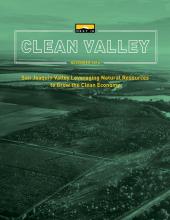 Downloads
Full Report
Press Release