About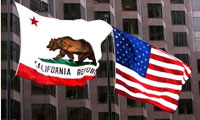 Next 10 is focused on innovation and the intersection between the economy, the environment, and quality of life issues for all Californians. We create tools and provide information that fosters a deeper understanding of the critical issues affecting all Californians. Through education and civic engagement, we hope Californians will become empowered to affect change.
We call ourselves Next 10 because we are not here for the quick fix. Our sights are set on joining with others to improve the state over the next ten years, and the ten years after that. The decisions we make together will affect California's economy, environment and quality of life for years to come. Together, we can create the brighter future we all want for ourselves and our children.
Next 10 was founded and is funded by venture capitalist and philanthropist F. Noel Perry.
In order to accomplish its public policy mission, Next 10 limits its payments of indirect costs for outside research to 5 percent of direct costs.
---
Our Team
F. Noel Perry, Founder noel@next10.org
Next 10 was founded by venture capitalist and philanthropist F. Noel Perry. As an investor, Noel has focused on socially responsible, innovative and profitable ventures. He has backed multiple business successes like the interactive educational company Leap Frog and the organic baby food company Earth's Best.

 

Colleen Kredell, Director of Research colleen@next10.org
As the Director of Research for Next 10, Colleen oversees the organization's research portfolio, managing projects from development to launch; spanning issues related to the state's budget, economy, and environment.

 

Marcia Perry, CFO marcia@next10.org
As CFO of Next 10, Marcia takes care of Next 10's day to day operations. Marcia has come to California via Massachusetts and Florida, where she worked for the past 15 years with National Nursing Home Chains, Mediplex, CCA and IHS as Manager of Accounts.

 

Stephanie Leonard, Communications Project Manager stephanie@next10.org
As Communications Project Manager of Next 10, Stephanie works to promote engagement with Next 10's publications and programs through online marketing and communications, in addition to managing development of the organization's online tools.

 
---
Our Advisors
We have been working with the following group of Advisors over the last year on our California Green Innovation Index:
Ralph Cavanagh - Natural Resources Defense Council
Michael Hanemann - California Climate Change Center, Goldman School of Public Policy, U.C. Berkeley
Hal Harvey - energyinnovation.org
Elliot Hoffman - True Market Solutions
Dan Kammen - Class of 1935 Distinguished Professor of Energy in the Energy and Resources Group and the Goldman School of Public Policy, Director, Renewable & Appropriate Energy Laboratory, U.C. Berkeley 
Bruce Klafter - Applied Materials
Joel Makower - Chairman and Executive Editor, GreenBiz Group Inc.
Jason Mark - The Energy Foundation
Walter McGuire - McGuire & Co., Inc.
Joe Nation - Former State Assemblyman, District 6, Professor of the Practice of Public Policy, Stanford University
Manuel Pastor - Professor of American Studies & Ethnicity, Director of the USC Program for Environmental and Regional Equity, University of Southern California
Wendy Pulling - The Nature Conservancy
Carol Whiteside - California Strategies
Tim Woodward - Nth Power
At its inception, a talented group of Senior Advisors provided guidance, feedback, and assistance on Next 10's organizational strategy and vision:
Angela Glover Blackwell
CEO, PolicyLink, Oakland, CA
Garrett Gruener
Co-founder & Director of Alta Partners, San Francisco, CA
Leon Panetta
Director, The Panetta Institute, California State University, Monterey Bay, Seaside, CA
Manuel Pastor
Professor and Chair, Latin American and Latino Studies at UC Santa Cruz
Carol Whiteside
President, Great Valley Center, Modesto, CA
Charlie Woo
CEO, Mega Toys, Los Angeles, CA
Julie Meier Wright
President, San Diego Regional Economic Development Corporation, San Diego, CA