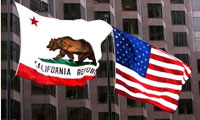 Next 10 is a nonpartisan nonprofit organization that works at the nexus of the economy, the environment and quality of life issues to educate the public and equip policymakers with the expert research and data they need to implement comprehensive, effective solutions to the most pressing issues of the day. Our work focuses on three program areas: Clean Energy, Economy & Governance, and Budget. Through education and civic engagement, we hope Californians will become more empowered to affect change.
We call ourselves Next 10 because we are not here for the quick fix. Our sights are set on joining with others to improve the state over the next ten years—and the ten years after that. Between 2020 and 2030, California must dramatically increase housing availability, achieve significant reductions in greenhouse gas emissions in hard-to-reach areas such as transportation, and address an affordability crisis that is impacting the quality of life for many residents—all while considering shifts in statewide and global economies to help ensure solutions are equitable.
The decisions we make together will affect California's economy, environment and quality of life for years to come. Together, we can create the brighter future we all want for ourselves and our children.
Next 10 was founded and is funded by venture capitalist and philanthropist F. Noel Perry. In order to accomplish its public policy mission, Next 10 limits its payments of indirect costs for outside research to 5 percent of direct costs.
---
Our Team
F. Noel Perry, Founder noel@next10.org
Next 10 was founded by venture capitalist and philanthropist F. Noel Perry. As an investor, Noel has focused on socially responsible, innovative and profitable ventures. He has backed multiple business successes like the interactive educational company Leap Frog and the organic baby food company Earth's Best.

Marcia Perry, CFO marcia@next10.org
As CFO of Next 10, Marcia takes care of Next 10's day to day operations. Marcia came to California via Massachusetts and Florida, where she worked for 15 years with national nursing home chains Mediplex, Community Care of America, and Integrated Health Services as Manager of Accounts.

Stephanie Leonard, Director of Research stephanie@next10.org
As the Communications Project Manager of Next 10, Stephanie works to promote engagement with Next 10's publications and programs through online marketing and communications, in addition to managing the development of the organization's online projects. Prior to joining Next 10 in 2015, Stephanie worked in online marketing at an ecommerce company, and she studied political science and environmental policy at UCLA.
---
Our Advisors
We have been working with the following group of Advisors over the last year on our California Green Innovation Index:
Dan Adler — Vice President, the Energy Foundation
Morrow Cater — President & Founding Principal, Cater Communications
Ralph Cavanagh — Natural Resources Defense Council
Michael Hanemann — Professor & Julie A. Wrigley Chair in Sustainability, Department of Economics, Arizona State University
Hal Harvey — CEO, Energy Innovation
Elliot Hoffman — CEO, REV
Mark Jacobson — Professor of Civil and Environmental Engineering, Director of the Atmosphere/Energy Program, Stanford University
Dan Kammen — Class of 1935 Distinguished Professor of Energy in the Energy and Resources Group and the Goldman School of Public Policy, Director, Renewable & Appropriate Energy Laboratory, U.C. Berkeley
Bruce Klafter — VP, Corporate Social & Environmental Responsibility, Flextronics
Joel Makower — Chairman and Executive Editor, GreenBiz Group Inc.
Walter McGuire — McGuire & Co., Inc.
Manuel Pastor — Professor of Sociology and American Studies & Ethnicity, Director of the USC Program for Environmental and Regional Equity, University of Southern California
Wendy Pulling — Director, ESG Integration, University of California, Office of the Chief Investment Officer
Dan Skopec — Vice President, Regulatory Affairs, Sempra Energy Utilities
Carol Whiteside — Partner, California Strategies
Tim Woodward — Managing Director, Prelude Ventures LLC
At its inception, a talented group of Senior Advisors provided guidance, feedback, and assistance on Next 10's organizational strategy and vision:
Angela Glover Blackwell
CEO, PolicyLink, Oakland, CA
Garrett Gruener
Co-founder & Director of Alta Partners, San Francisco, CA
Leon Panetta
Director, The Panetta Institute, California State University, Monterey Bay, Seaside, CA
Manuel Pastor
Professor and Chair, Latin American and Latino Studies at UC Santa Cruz
Carol Whiteside
President, Great Valley Center, Modesto, CA
Charlie Woo
CEO, Mega Toys, Los Angeles, CA
Julie Meier Wright
President, San Diego Regional Economic Development Corporation, San Diego, CA