Publications
California Budget Challenge 2023
The Governor released his proposed fiscal year 2023-24 budget on January 10, 2023 and his revised budget on May 12, 2023.
Following surpluses in 2021-22 and 2022-23, the state is facing a projected deficit of approximately $32.5 billion in 2023-24. This is a result of lower General Fund revenues, and consequently, many of the multiyear spending commitments from 2021-22 and 2022-23 are no longer affordable. The Governor is proposing spending cuts and delays to close the budget gap in 2023-24, along with shifting some planned college student affordable housing and climate spending to bond measures.
Most of the proposed spending solutions would come from natural resources, environmental, and transportation funding that had been allocated over multiple years in the 2021-22 and 2022-23 budgets. The minimum funding guarantee for K-12 schools and community colleges would be approximately $108.8 billion—$1.5 billion below the 2022-23 level enacted in June 2022. No reserves would be used to close the budget deficit under the Governor's proposed plan.
Under the Governor's proposed budget, the state would also end 2023-24 with $27.1 billion in general purpose reserves, a decrease of $12.5 billion over the revised reserve level of $39.6 billion in 2022-23. The balance of the BSA (Rainy Day Fund) would be $22.4 billion, the Special Fund for Economic Uncertainty (SFEU) would be $3.8 billion, and the Safety Net Reserve would have $900 million (unchanged from 2022-23).
The largest spending proposals from the Governor's proposed budget are listed in the Key Findings tab, along with information about alternative proposals.
Featured Graphics
2023-24 Proposed Budget Status Quo General Fund Expenditures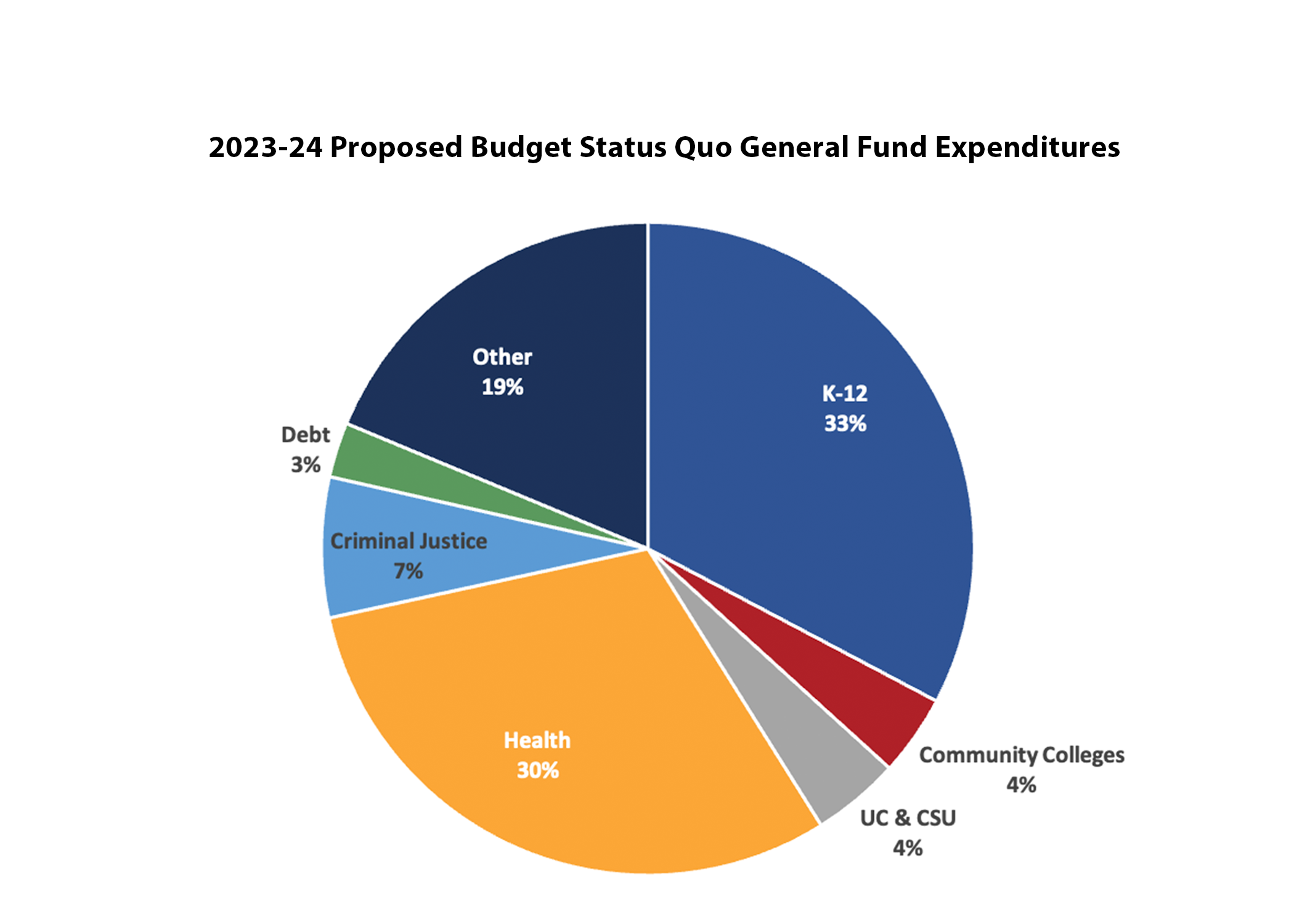 Download
Image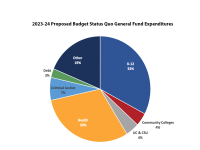 Download
2023-24 Proposed Budget Status Quo General Fund Expenditures
2023-24 Proposed Budget Status Quo General Fund Revenues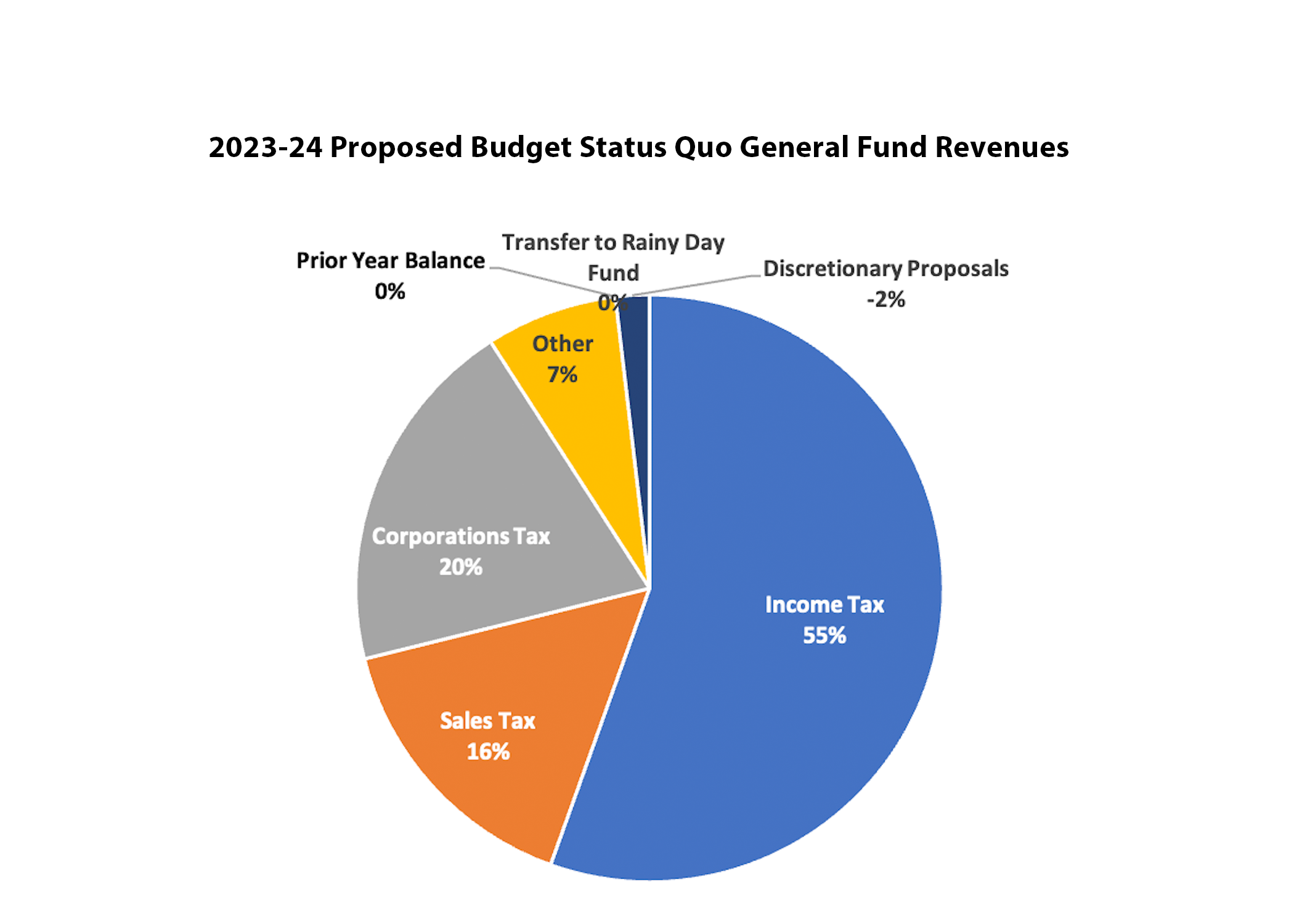 Download
Image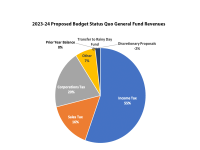 Download
2023-24 Proposed Budget Status Quo General Fund Revenues
Key Major Spending Cuts:
 K-12 Education
Cut $2.5 billion from the Learning Recovery Emergency Block Grant to support academic intervention after the pandemic, reducing funding from $7.9 billion to $5.4 billion.
Cut $1.8 billion from the Arts, Music, and Instructional Materials Discretionary Block Grant.
 UC & CSU
Delay $1.092 billion in current and planned support for affordable student housing projects by shifting funding to UC and CSU-issued bonds.
Delay $900 million to 2025-26 for the student housing revolving loan program to build more student housing at CCC, CSU, and UC campuses.
 Housing & Homelessness
Cut $200 million from the "Dream For All" program, which provides down payment assistance to first-time homebuyers.
Shift $250 million from the Behavioral Health Bridge Housing Program to the Mental Health Services fund.
 Climate Change & Resilience
Delay $1.1 billion in spending on various climate resilience programs, including water recycling, sea restoration, resilience programs and urban greening.
Cut $1.11 billion on Zero Emissions Vehicles (ZEV) investments in 2023-24. Backfill funding from the Greenhouse Gas Reduction Fund (GGRF) would restore $611 million.
 Jobs & Economy
Defer $550 million for last-mile broadband infrastructure grants to 2024-2027.
Key Major Spending Proposals:
$154 million to fully fund the Universal Meals Program, providing school meals to all students, regardless of income.
$357 million to continue to expand transitional kindergarten (TK) to all 4 year-olds by 2025.
$1 billion in 2023-24 for a fifth round of Homeless Housing, Assistance, and Prevention (HHAP) Program grants.