Publications
California Budget Challenge 2022
The Governor released his proposed fiscal year 2022-23 budget on January 10, 2022. Following a deep deficit in 2020-21 as a result of the COVID-19 pandemic, General Fund revenues have rebounded more quickly than expected and have resulted in a large surplus for 2022-23. The Governor's budget proposes spending $17.3 billion on a one-time or temporary basis plus $6 billion to reduce revenues and $2 billion for ongoing spending increases. An additional non-discretionary $13 billion would be spent on K-12 schools and community colleges under Prop. 98. Direct COVID-related expenditures are estimated to be $1.3 billion in 2022-23.
The LAO estimates a discretionary surplus of $29 billion, though that is somewhat complicated by the State Appropriations Limit (SAL). The SAL (also called the Gann Limit) was approved by voters in 1979 and limits how the Legislature can use revenues that exceed a specific threshold—simply put, the limit is to keep inflation-adjusted per-person government spending under 1978–79 levels. Certain spending, such as infrastructure spending, is not subject to the Gann Limit. The Governor's proposed budget includes about $12.5 billion for proposals that either reduce revenue through various tax credits or spending subject to the limit ($6 billion in revenue reductions and $6.5 billion in limit-excluded spending). That leaves room of about $5.7 billion under the limit in 2022-23 under the Governor's proposed budget.
Under the Governor's proposed budget, the state would also end 2022-23 with nearly $25 billion in general purpose reserves, an increase of $4.2 billion over the enacted reserve level of $20.7 billion in 2021-22. The balance of the BSA (Rainy Day Fund) would be $20.9 billion, the Special Fund for Economic Uncertainty (SFEU) would be $3.1 billion, and the Safety Net Reserve would have $900 million (unchanged from 2021-22). Separately, the Prop. 98 reserve that provides dedicated K-12 and community college funding, would reach nearly $10 billion under the Governor's budget. This reserve benefits schools because it mitigates funding reductions that would occur when the constitutional funding minimum under Prop. 98 drops.
The largest spending proposals from the Governor's proposed budget are listed in the Key Findings tab, along with information about alternative proposals.
Featured Graphics
2022-23 Proposed Budget Status Quo General Fund Expenditures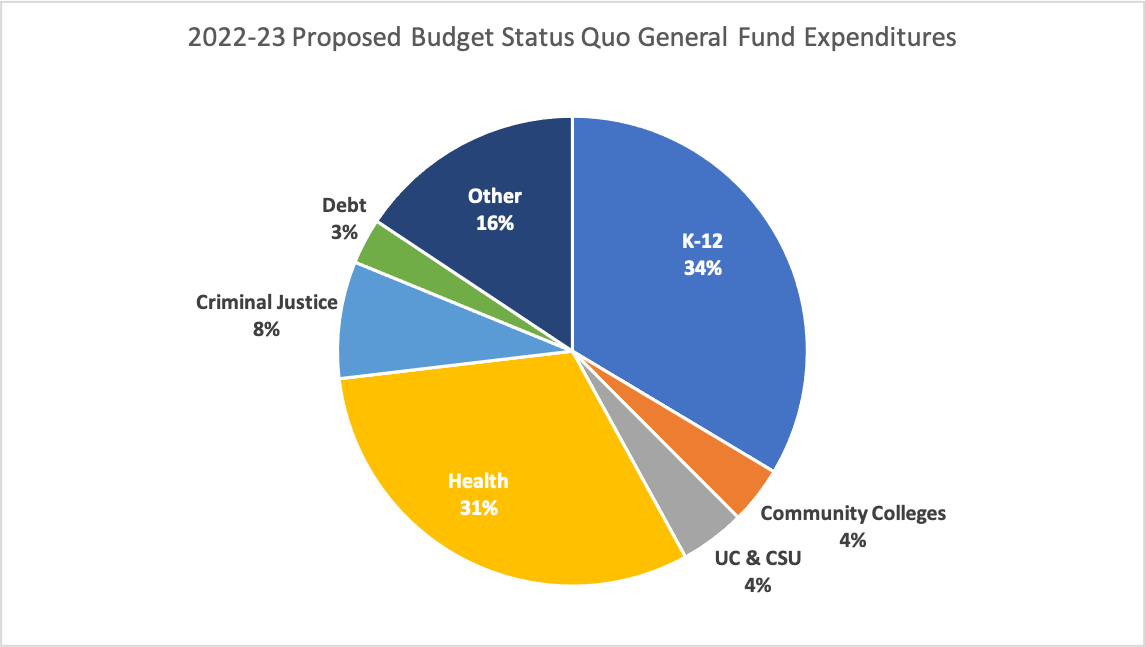 Download
Image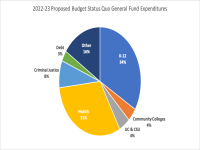 Download
2022-23 Proposed Budget Status Quo General Fund Expenditures
2022-23 Proposed Budget Status Quo General Fund Revenue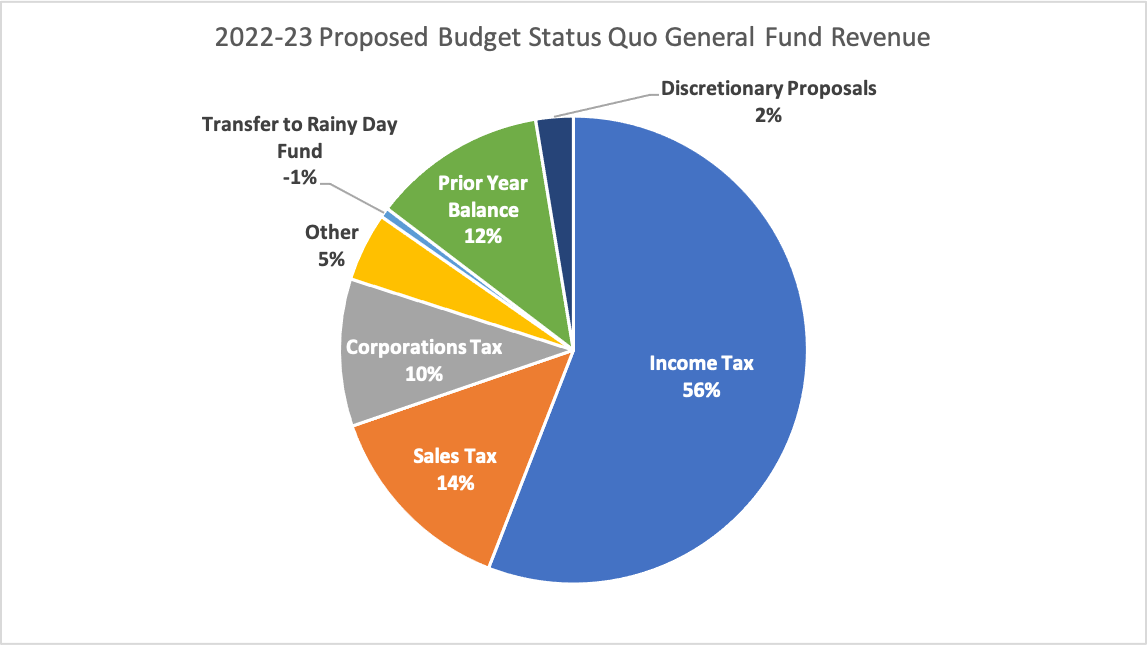 Download
Image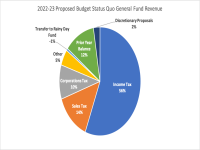 Download
2022-23 Proposed Budget Status Quo General Fund Revenue
Major One-Time or Temporary Spending:
College and Career Pathways: $1.5 billion Prop. 98 funds to develop college and career pathways for high school students interested in technology, health care, education, and climate-related fields
Transitional Kindergarten: $639 million General Fund to expand transitional kindergarten (TK) to younger children as part of the effort to provide universal access to all four-year-olds by fall 2025
Workforce Training Programs: $2 billion General Fund for more than 20 new, one-time workforce training proposals in clean energy fields, plus new and expanded programs to recruit and train teachers, social workers, nurses, community health workers, and behavioral health workers, among others
ZEV Package: $2.7 billion from all funding sources for further investments in ZEV infrastructure, acceleration, and adoption


Budget additionally proposes $1.5 billion General Fund to replace diesel school buses with electric buses

Clean Energy Package: $938 million General Fund for various proposals related to clean energy and building decarbonization
Wildfire Resilience Package: $400 million General Fund for various efforts to improve forest health and make communities more resilient to future wildfires
Drought Package: $750 million General Fund for a variety of activities to respond to current drought conditions and build the state's water resilience to weather future dry years
Transportation: $3.5 billion to support various transportation projects, including transit and intercity rail, active transportation, and climate adaptation


Governor's budget also includes $1.9 billion in 2022-23 in new federal funds the state is expected to receive as part of the Federal Infrastructure and Jobs Act (IIJA) that was enacted in November 2021

Port Infrastructure and Goods Movement: $600 million General Fund for projects that improve the movement of goods on rail and roadways that serve California's ports, including railyard expansions and new bridges
Gas Rebate Proposal (released after the budget): $9 billion General Fund to provide up to two $400 rebates per person for vehicle owners to support families with more than one vehicle and help offset higher gas prices. Package also includes:


$750 million for incentive grants to transit and rail agencies to provide free transit for Californians for three months, expected to benefit three million average daily riders
$600 million to pause part of the sales tax on diesel for one year with the lost revenue backfilled by General Fund dollars

Homelessness: $1 billion General Fund for immediate housing and treatment services for unhoused individuals with serious behavioral health issues and $500 million General Fund to enable local jurisdictions to invest in short-term and long-term housing strategies for individuals living in homeless encampments around the state
Major Ongoing Spending:
Universities: Ongoing 5% increase to base funding for each of the systems at a cost of $211 million for CSU and $201 million for UC


Plus increase of California resident undergraduate enrollment at CSU by 9,434 full-time equivalent (FTE) students ($81 million) and at UC by 6,230 FTE students ($68 million)

Expanding Medi-Cal Coverage: Expand comprehensive Medi-Cal coverage to all income-eligible undocumented immigrants aged 26 to 49 (the remaining population not currently eligible) beginning no later than January 1, 2024 — estimated cost would be $613.5 million General Fund in 2023-24, increasing to $2.2 billion General Fund annually at full implementation