Publications
Allocating AB 32 Allowances and Fees
On April 16, 2009 Next 10 and the ICCT convened a GHG allowance/fee revenue allocation workshop in Sacramento.
OBJECTIVES OF THE WORKSHOP
Gather key stakeholders and decision-makers to hear from leading experts and review their research related to the different options for handling AB 32's GHG allowance/GHG fee revenue allocations, including experience in other jurisdictions. Mix policy level, real world, and academic perspectives.
Review interests and highlight where we might have consensus and where there are different perspectives.
Recommend issues and agenda topics that would help frame upcoming California Air Resources Board meetings and potential legislative meetings.
Identify key AB 32 objectives such as equity, efficiency, and technolog innovation and identify policy options for achieving these goals.
Identify additional research needs/other recommendations on moving forward on this topic to support successful implementation of AB 32 objectives in California.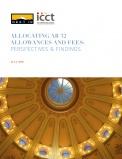 Downloads
Full Report