Publications
Using the Allowance Value from California's Carbon Trading System: Legal Risk Factors, Impacts to Ratepayers and the Economy
This new report seeks to better understand California's cap-and-trade program and different alternatives for how the state can use the allowance value created under the cap-and-trade program.
The findings in this report summarize a series of reports commissioned by Next 10 that represent the first extensive analysis on the issue of alternative uses of allocation value and the revenue derived from permit auctions.
"California policymakers are discussing how to spend this money right now, which will have implications for the state's economy, family budgets, and California's future," said F. Noel Perry, businessman and founder of Next 10. "The major takeaways from these reports are that from an economic perspective, funding new energy efficiency programs produce the greatest economic benefits. From a legal perspective, these and other investments that further the goals of AB 32 are considered low risk. And, In terms of impacts on households, the research shows minimal impacts on electricity rates once the allowance value has been allocated."
The four studies together provide legal and economic analysis of different investment scenarios, including impacts on utility ratepayers and the economy:
Options for Cap and Trade Auction Revenue Allocation: An Economic Assessment for California by David Roland-Holst is the first macroeconomic study to examine the economic impact of spending revenues generated by the sale of cap and trade emissions allowances. Roland-Host models the Gross State Product (GSP), jobs, and state revenue impact of 18 different possible spending options for cap and trade revenues to be distributed to the state's Air Pollution Control Fund.
California's Cap-and-Trade Auction Proceeds: Taxes, Fees, or Something Else? by Dan Farber and Deborah Lambe offer a legal analysis of different strategies for spending revenues raised through the sale of emissions allowances in California.
For the Benefit of California Electricity Ratepayers: Electricity sector options for the use of allowance value created under California's cap-and-trade program, by Dallas Burtraw and Sarah Jo Szambelan, examines how California ratepayer utility bills will be impacted by the cap-and-trade program. Allowance value being returned to the electricity sector is greater than the cost imposed independently by the cap-and-trade program. The analysis examines three different proposed strategies of how that value can be used to benefit ratepayers.
A Primer on the Use of Allowance Value Created under the CO2 Cap-and-Trade Program, also by Dallas Burtraw and Sarah Jo Szambelan, examines how the revenues generated by the AB 32 cap and trade program might be spent. The authors also explain key aspects of the program including what allowance value is, who will make the decisions about this billion dollar plus revenue source, the timeline for major decisions, and how different Californians might be impacted.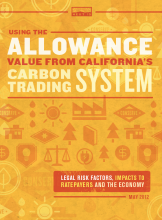 Downloads
Full Report
Press Release