Publications
Designing the Allocation Process for California's Greenhouse Gas Emissions Trading Program: The multi-billion dollar question
Next 10 commissioned a set of five research papers from leading academic experts to examine the following questions: - What are the economic impacts of the distribution of tradable emission permits (allowances), whether by auction or distribution without charge? - If auctioned, what are the economic impacts of various distribution approaches for the resulting revenue?
Key findings from this expert research are summarized in Designing the Allocation Process for California's Greenhouse Gas Emissions Trading Program: The multi-billion dollar question.
These important design issues will decide by whom and how tens of billions of dollars will be used, both of which will greatly influence the market incentives operating in California's greenhouse gas emissions trading program. The projected value of emission permits in 2012, the first year of California's cap-and-trade program, will be $2.5 to $7.5 billion. By 2020, the value will rise to an estimated $7.3 to $21.9 billion.
"How California designs its emissions trading program is a multibillion dollar question. Next 10 wanted to provide greater insight into the impacts of various design choices on California jobs, energy prices and household income, as well as voter support. What we found is that an emissions trading program will have a negligible impact on California households and businesses, and that there is strong voter support for such a program." -F. Noel Perry, Next 10 Founder
In addition to this body of research Next 10 commissioned a poll from the Field Research Corporation that was completed November 11-23, 2010 among a random sample of 493 registered voters. Top findings include:
66 percent of California voters favor strongly (44 percent) or somewhat (22 percent) the 2006 law to reduce emissions of greenhouse gases that cause global warming (AB 32), up from 58 percent who backed the law when Field Research last polled on this topic in March.
64 percent of California voters favor strongly (34 percent) or somewhat (30 percent) creating an emissions trading program wherein businesses would be required to obtain tradable permits to continue emitting greenhouse gas emissions.
Just over half of California voters (52 percent) favor distributing these permits for free rather than requiring businesses to purchase them (35 percent).
If the state did require businesses to purchase the permits, 54 percent of California voters would favor using the resulting revenue to reduce cuts to state services, as opposed to returning the money to residents (39 percent).
73 percent of California voters agree strongly or somewhat that California can reduce greenhouse gases that contribute to global warming and expand jobs and economic prosperity at the same time. This is up from 69 percent who agreed with this statement in March.

"Ironically, the increased attention generated by Proposition 23, which sought to suspend AB 32 and was defeated by voters at the polls in November by a 62% to 38% margin, has had the effect of strengthening support for the law." -Mark DiCamillo, Senior Vice President of Field Research Corporation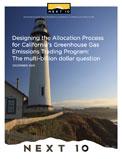 Downloads
Full Report
Press Release