Publications
California Climate Policy to 2050: Pathways for Sustained Prosperity
As California considers intermediate (2030) targets for reducing greenhouse gas (GHG) emissions, this Next 10 study, authored by Professor David Roland-Holst at UC Berkeley, assesses the economic impacts of different policy approaches to reach the state's long-term climate goals, finding that ambitious action sooner produces the biggest economic boost.
California Climate Policy to 2050: Pathways for Sustained Prosperity assesses the employment, income, household consumption, price, and emission impacts of different GHG reduction strategies—from ambitious early action to more gradual approaches the state could take to cut GHG emissions 80 percent below 1990 levels by the year 2050—and finds that all seven policy pathways modeled resulted in net positive economic benefits for Californians.
Key findings from the report include:
The policy scenario reflecting the most ambitious 2030 emissions cap produces the greatest overall positive economic impact, generating about one million more jobs and nearly 6 percent more GSP ($338 billion) by 2050.

Although the state could reach its 2050 emissions goals under either the ambitious or deferred pathways, a cap and trade program that limits total GHG emissions to 250 MMTCO2e by 2030 would result in over 14 percent greater reduction in global warming pollution when compared to a less ambitious 2030 cap of 376 MMTCO2e.

The state can achieve its 2050 carbon emission reductions goals—even under the least ambitious cap and trade program analyzed (capping emissions at 376 MMTCO2e in 2030)—with a carbon mitigation credit program offering some out-of-state mitigation credits that are verifiable, additional, and tradable. Outsourcing emission reductions, however, reduces in-state innovation incentives and might be detrimental to local air quality.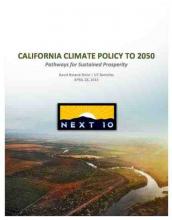 Downloads
Full Report
Key Findings
Press Release