Publications
Many Shades of Green: Regional Distribution and Trends in California's Green Economy
Many Shades of Green provides the most comprehensive green jobs accounting to date, systematically tracking the most recent available data on green companies, job type, location and growth across every sector and region of California.
From January 2008 to 2009, the most recent observable year, jobs in the green sector grew more than three times faster (three percent) than total employment in California (one percent). The Core Green Economy now accounts for 174,000 jobs in California.  The rate of growth of green jobs has been similar to that of software jobs since 2005. 
"The green job data is significant because these jobs are growing in every region across the state, outpacing other vital sectors, and generating business across the supply chain," said F. Noel Perry, founder of Next 10.  "There are very few business sectors in a state as large as California that employ people across every region. The emergence of this vibrant Core Green Economy can be attributed to California's history of innovation, as well as our forward-looking energy and energy efficiency policies."

"The Sacramento region is focused on a green economy that creates jobs and saves people money" said Sacramento Mayor Kevin Johnson. "We are proud of the recognition from Next 10, and we are taking action to ensure the region continues to accelerate its position as a green jobs leader. The Greenwise Sacramento Regional Action Plan, developed through a grass-roots initiative in 2010, will be unveiled on January 20 and will include a number of measures to keep Sacramento at the top of the Next 10 annual green economy survey."

Report Highlights of California's Core Green Economy:
From January 2008-09, green jobs expanded by three percent, compared to a one percent increase in overall jobs.
Between 1995 and 2009, jobs in California's Core Green Economy expanded from 111,000 to 174,000, growing 56 percent.
From 1995 to 2009, the Energy Generation sector created the most jobs in California's Core Green Economy, adding nearly 20,000 jobs across the state and almost 3,000 jobs over the most recent observable year (January 2008-2009).
The Bay Area and the Sacramento Area posted the strongest employment gains in the Core Green Economy, expanding by 109 percent and 103 percent respectively since 1995, followed by Orange County (67%) and the San Joaquin Valley (55%).
The Bay Area and the San Diego Region led in green job growth over the most recent observable year, expanding by eight percent and seven percent respectively (January 2008-2009).
While manufacturing employment represents only 11 percent of statewide employment, it represents 26 percent of all green employment. This sector increased ten percent over the most recent observable period (January 2008-2009).
Across all green segments, employment in the installation, sales, research and development, and finance and investment sectors more than doubled in California since 1995.
Regional Trends
Bay Area: The Bay Area accounts for 45 percent of California's employment in the Energy Storage sector. Since 1995, employment has surged 790 percent, adding nearly 2,230 jobs. Just from 2008 to 2009, expansions yielded 580 new jobs.
Los Angeles Area: The Los Angeles Area is a hot spot for green clean transportation jobs, increasing 33 percent since 1995 and nine percent between January 2008 and 2009.
Orange County: Orange County is a leader in the Clean Transportation sector as well as the Alternative Fuels sector. With employment shares more than double the state average in the clean transportation sector, the region reflects a mounting strength in this field.
San Diego Region: Water & Wastewater green establishments grew from under 50 to nearly 80, reflective of a 58 percent growth in this sector since 1995.
Sacramento Area: The Energy Generation sector brought roughly 1,900 new jobs to the region, and increased nine percent in the most recent observable period (January 2008-2009).  
Inland Empire: The Energy Generation sector has powered much of the employment growth in the Inland Empire's Core Green Economy. Employment grew 129 percent from 1995 to 2009, adding roughly 1,500 jobs.
San Joaquin Valley: The largest segment of the Core Green Economy in this region is Recycling & Waste, which accounts for 24 percent of green employment. Employment in this segment increased four percent from January 2008 to 2009 and was driven almost exclusively by job growth in Recycling.
Central Coast: Employment in the region's Energy Generation sector increased 165 percent from the start of 1995 to 2009. Energy Storage tripled in employment over this period and was mainly driven by growth related to fuel cells.
Sacramento Valley: The Sacramento Valley leads the state in the Agriculture Support sector and is a leader in the production of biofuels. Representing 46 percent of green employment in this region, Agriculture Support added roughly 330 jobs from 1995 to 2009. Employment in this segment is 23 times more concentrated than the statewide average.
North Coast: The North Coast's largest green segment, Energy Generation, accounts for 25 percent of total green employment. Since 1995, Energy Generation jobs increased 32 percent, and 25 businesses opened.
Sierra Region: With employment shares 60 percent above the statewide average, the Energy Generation sector is highly concentrated in the Sierra Region. The Solar and Wind sectors have driven this growth.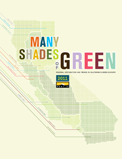 Downloads
Full Report
Press Release