Publications
Power Town - Sacramento Regional Report

In "Power Town: California's Capital Region Mobilizing to Meet Growing Demand for Clean Technologies," Next 10 reports that Sacramento regional innovators are using their close proximity to the capital to leverage state incentives and mandates to accelerate adoption of clean technologies.
Key findings include:
- Installed solar is seeing healthy growth in the region.
- Sacramento demonstrates strength in home energy efficiency technologies adoption, development of waste-to-energy technologies, and electric vehicle deployment.
- Solar is experiencing a healthy boost in Sacramento.
- The high demand for solar installation, driven by local and state policies, has prompted the growth of solar technology companies.
- Sacremento is unique in being home to many companies with cost effective waste-to-energy technologies operating at a commercial scale.
- UC Davis is a major driver of research and development as well as commercialization of clean technologies.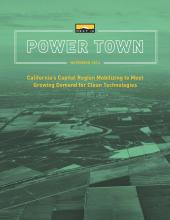 Downloads
Full Report
Press Release