Publications
How Does California's Economic Performance Compare to the Other States?
In considering how state policy might improve California's economic performance – especially when comparing California policies to those in other states – it is essential to put California's economic performance into the proper context and perspective. To that end, this report provides a rich and multi-dimensional empirical description of California's economic performance relative to other states. It provides up-to-date and comprehensive longer-term comparisons that are essential to well-informed debate about where the state performs comparatively well, and where it comes up comparatively short.
Concurrent with the production of this report, Next 10 produced compare50.org, an inteactive website that contains all the data discussed in the report and permits similar comparisons of the economic performance of other states.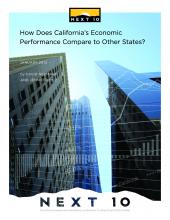 Downloads
Full Report
Press Release